Portalp and EQUANS receive the platform screen doors contract for line 18 of the Grand Paris Express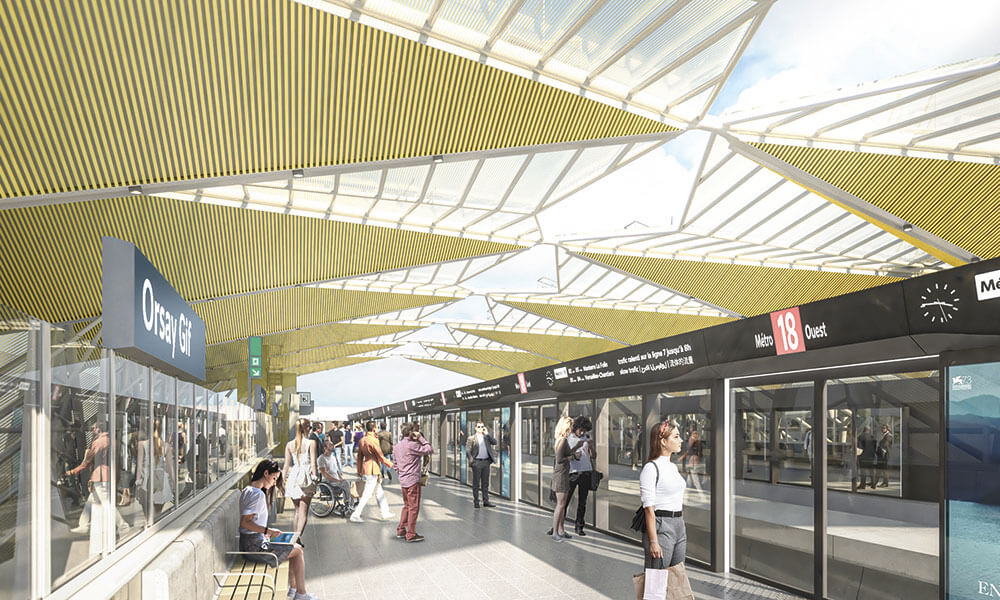 In the wake of lines 14, 16, and 17, the consortium consisting of Portalp and Ineo UTS, an EQUANS France subsidiary, has been selected by the Société du Grand Paris to outfit and secure the upcoming line 18's platforms. The planning phase for this project will begin in the coming days, followed by progressive commissioning as of 2026. This contract represents a budget of 25 million euros for the consortium.
Reliant l'aéroport d'Orly, le pôle de recherche de Saclay, la gare TGV de Massy-Palaiseau et celle de Versailles Chantiers qui offrent de nombreuses connexions, la ligne 18 contribuera au développement équilibré d'un territoire d'exception, entre urbanisation maîtrisée et préservation d'un cadre naturel et agricole unique. Avec 35 km de métro automatique, dont 13 km en aérien, la ligne 18 traverse trois départements et pourra accueillir entre 150 000 et 200 000 voyageurs chaque jour. L'enjeu de sécurité est donc majeur. Pour y répondre, EQUANS et Portalp assureront la mise en place de 1,21 km de façades de quai, dont 840 mètres pour les sept gares de la tranche ferme : aéroport d'Orly, Antonypôle, Massy Opéra, Massy Palaiseau, Palaiseau, Orsay-Gif et le CEA Saint-Aubin. Sur chaque quai, il s'agit d'installer des parois de protection et des portes palières pour empêcher les chutes sur les voies, fluidifier le trafic des voyageurs et améliorer l'exploitation.
Comme pour les lignes 16 et 17 du Grand Paris Express, Portalp, fabricant et leader français de portes automatiques, assurera la conception et la fabrication des façades de quai mais également leur installation mécanique. Nouveau leader mondial des services multitechniques, EQUANS assurera la direction de projet, l'ingénierie système, l'alimentation électrique, l'installation des systèmes, l'éclairage, la sonorisation et les outils d'aide à la maintenance. Le groupement a donc en charge les études, l'installation, les essais et la mise en service de l'ensemble des équipements. Le calendrier de réalisation est parallèle à celui des autres lignes du réseau.
A l'issue de ce chantier d'envergure, les vingt quais de la ligne 18 seront tous dotés de panneaux fixes, portes palières motorisées, portes palières de secours, portes d'extrémité de quai et d'un pupitre manuel de station ainsi que de feux d'extrémité. Le marché comprend également pour les dix gares de la ligne l'alimentation électrique des façades ainsi qu'un superviseur. Les solutions déployées par EQUANS et Portalp seront 100 % françaises, ce qui améliore le bilan carbone de l'installation.
"La confiance renouvelée de la Société du Grand Paris est une fierté pour EQUANS et l'ensemble de nos équipes. Avec Portalp, nous sommes heureux de mettre nos savoir-faire à disposition de cette nouvelle infrastructure. La ligne 18 est le reflet d'une ambition plus large, celle de contribuer activement et concrètement à la transition énergétique, au développement et à la croissance durable des territoires par le biais de la mobilité" résume Emmanuelle Brisemur, CEO du marché Transport de EQUANS France.


NewsPortalp wins tender for Toulouse metro B-line extensionPortalp has just been awarded the contract for designing, producing, and installing platform screens for the two stations being added to the Toulouse metro's B-line (line B connection). Portalp, a French...